-------------------------------
Time: 6 hrs 9 mins
Total Time : 8 hrs 34mins
-------------------------------
This is a huge update, it's been 3 months since I worked on the kits, partially due to being overseas for 6 weeks and the rest is atypical procrastination due to my life being quite hectic and a lot going on!!! I've been working on Bridget over the last week for an hour or so a day. Instead of perfecting each section then moving on (like I was doing with Shuichi) I'll keep everything rough and keep adding more details as I go along.
First, I wanted to reposition the left arm. The arm was cut at the elbow, forearm turned around and pinned back together to be straight. The upper arm is also now facing the other way, as in where the bicep was is now behind and has become the tricep. The arm was positioned to be sitting behind the body as per the reference pic and puttied to close the gap between the top of the arm and the body to form the shoulder.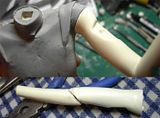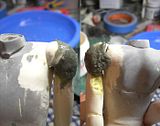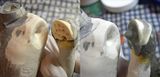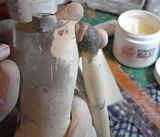 Next, I wanted to remove that awful hair, I can't stand when hair is sculpted on to a garage kit instead of being a separate piece. This took hours, maybe 3 hours with a Tamiya hobby saw. The dremel cutting wheel wouldn't budge it and the sanding wheel wouldn't reduce it as I hoped to sand it away after the wheel didn't work, so it all ended up being done by handsawing, it was rotten, I had to keep the blade saturated with Vaseline so it would move through the chunks. I've left some bangs there for now but will probably remove them. You can see all the little chunks I removed.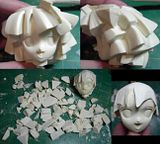 Lastly the legs are far too long, I planned to take 4 cm off each, but after taking 2cm from the thighs I was happy and didn't feel the need to take the rest off. Again using the Tamiya saw but this time it was a breeze, the resin for some reason wasn't as difficult to get through as the resin on the hair.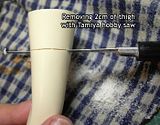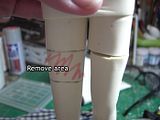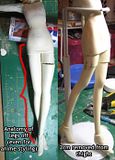 Next job to do is to fix up the joins on the thighs from the shortening of the legs and to roughly sculpt the shoes.