-------------------------------
Time: 2 hrs 30 mins
Total Time : 13 hrs 28mins
-------------------------------
To start the shoes off I drew one foot on paper while holding the model on the paper, side on. Then I traced the shoe, cut it out and taped it down at an angle next to the other to get a visual idea of the shoes.
Then I mixed up some of the Selley's Plastibond and spread it on the picture trying to keep in the lines. It cures in minutes which is why I use it all the time, once it cured I peeled it off the paper and realised that the impression of the pencil is transferred onto the back, so next time I use it I wont be so particular about getting it in the lines.
Then I mixed up about a 2.5cm diameter ball of magic sculpt an filled in the basic three dimensional shape around the flat putty shoe. The best part about having the putty shoe is that you keep pressing your shape around the outline of the putty part and it keeps the magic sculpt parts conforming to the shape, making sculpting this much easier than by hand.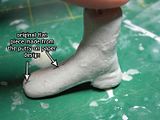 I have the basic shape now but Bridget's shoes are quite bulky and different to this but I just wanted something simple to start on. I did try playing with the original shoes and sculpting over them but I didn't like the shape of them and couldn't get comfortable with the mod, so decided to get them organised from scratch.