8 months since the last update and I didn't even expect to get back into him this soon!!! Mainly the collar drove me nuts from previous attempts to finish him because it kept snapping . . . . the putty I was using wasn't very strong. I went to Japan earlier this year and brought back some Mori Mori and the stuff is amazing . . . . it stinks like nothing else, probably toxic, but it sets quick and is very strong . . . so time to rebuild the collar . . . . again!!!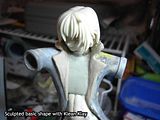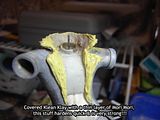 There was quite a large gap of the cloak that was never filled, decided to get that out of the way!!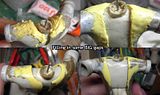 After scraping the clay out of the new collar and cleaning with acetone I managed to get most of it out, but it broke . . . so on the first draft I mainly filled in the open parts (where the clay was) then joined the top collar to the front collar.